T73

Self Drilling Anchor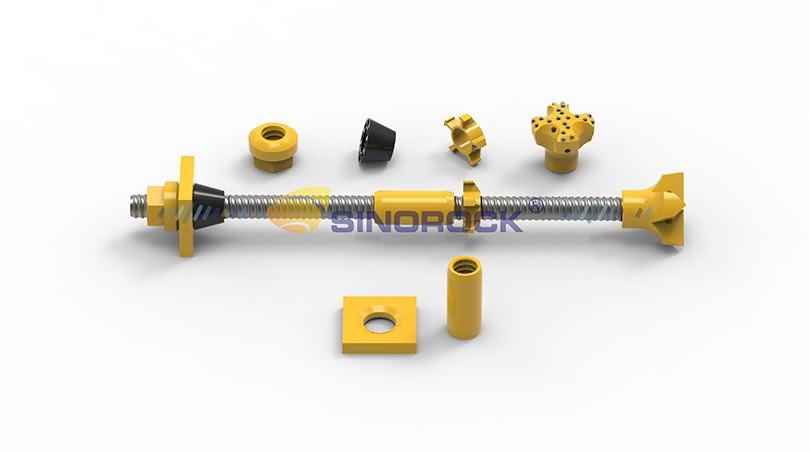 Product Summary
Self drilling anchors can overcome the problems of difficult to drill holes in loose and broken soil. It can realize stabilization of side slope.
Download PDF
Brief Introduction
Feature:
1. It adopts superior self drilling hollow anchor bolt, overall bolt has strong strength.
2. Application range is broad
3. Convenient for operation.
Hollow Anchor Bar
Size
Outer Dia.
(mm)
Inner Dia.
(mm)
Ultimate Load
(kN)
Yield Load
(kN)
Weight
(Kg/m)
SET73/53
73
53
1160
970
13.20
SET73/45
73
45
1582
1270
17.80
SET73/40
73
40
1865
1430
21.20
Coupler
Size
Outer Dia.
(mm)
Length
(mm)
Weight
(Kg/pc)
Note
SST73
89
235
3.82
With sealing structure
95
245
5.70
Spherical Collar Nut
Size
Key Size
(mm)
Length
(mm)
Weight
(Kg/pc)
SET73
95
70
1.90
Flat Plate
Size
Dimensions
(mm)
Thickness
(mm)
Hole Dia.
(mm)
Weight
(Kg/pc)
SST73
175×175
34
80
6.85
250×250
40
80
18.00
Centralizer
Size
Outer Dia.
(mm)
Length
(mm)
Weight
(Kg/pc)
SET73
130
65
1.08
Drill Bit
Size
Outer Dia.
(mm)
Weight
(Kg/pc)
Application Range (Advice)
EX
Sand, fills, gravel
SST73/130
130
4.00
SST73/175
175
6.80
EXX
Softer sedimentary rocks such as marls, mudstones, siltstone
SST73/130
130
4.00
Clay Bit
Clay, soft soil, marls, loose sand or gravel
SST73/150
150
4.00
SST73/200
200
5.60
SST73/250
250
6.75
SST73/280
280
7.60
SST73/175
175
5.20
ESS-F
Weathered rock, stone walls, rubble
SST73/130
130
4.70